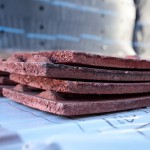 We supply roofing materials in Cannock that you can trust for quality. We stock a comprehensive range of supplies for roofing systems, not just roof tiles and accessories. Guttering is part of your roofing system. It draws water away from the roof and also away from the building foundation. Putting on a new roof when gutters are missing or faulty is a sure way to shorten the life of your roof. It's not very cost-effective because there will likely be extensive repairs from the damp that may seep in. Soffits and fascia are essential to waterproofing your house as well. When you begin the task of replacing the roof, be sure to check your whole roofing system. It makes the job easier if you purchase everything you need at once. We deliver six days a week so everything is at hand before you start the task. 
You can usually add three layers to a roof before you need to strip it down to the wood. By that time, when you are ready to reroof in Cannock, roofing materials will likely include some wood. You may need to replace some or all of it or you may just need small repairs. Give us your roof dimensions and we can help you cost estimate the job including accessories, tools, timber, shingles selection and more. This is a good time to add one or more sky windows if you've been wanting them. Look no further, we have them for you. Of course, we also have everything you need for repairing or replacing flat roofs of all types for both domestic homes and commercial buildings. That includes lead sheeting for waterproofing and flashings.
We stock roofing materials in Cannock that have proven quality. There are a lot of different brands out there on the market; so much that it can get confusing. Count on us for product information, comparison shopping, and advice on new products. Our staff is here to assist you in any way we can. All are knowledgeable about our products and the roofing industry. Contact us for a complete line up of materials for all roofing types. We help our contractors to make estimating their jobs easy and accurate. If you are going to tackle your roofing job yourself, let us help you. You can hire equipment from us to make the job easier and safer.