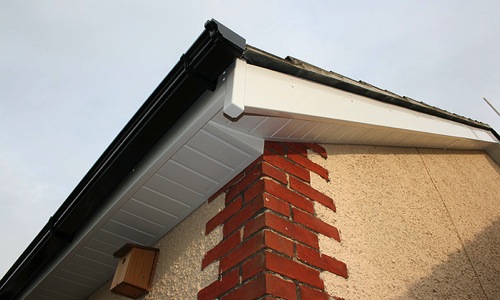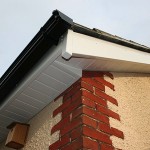 Are you thinking about replacing your soffits and fascias in Rugeley as they are old and worn? Fascias and soffits are an important part of your roofing system. The fascia is a straight board that runs lengthwise along lower portion of the roof. It is fixed on the lower end of the trusses. The fascia supports the bottom row of tiles and the guttering. In a heavy downpour, the fascia on a 3-bedroom semi detached home washes out several gallons of water per second through its gutters. Soffits are a part of the fascia and are neatly tucked away underneath the fascia. The soffit board is what is visible from street level. This area may be ventilated to enable air flow into the roof. Without sufficient ventilation, condensation will occur leading to timber decay. If your fascias and soffits are warped, do not delay in replacing them.
For your building project in Rugeley, soffits and fascias can be purchased from Capital Roofing. We are the leading roofing materials supplier in Cheshire and Staffordshire. Whether you are a do-it-yourself enthusiast, professional roofer or a homeowner, Capital Roofing Centre is your one stop shop for all roofing supplies. Our product range includes guttering, sky lights, slates, roof tiles, roofing insulation, timber products, lead sheeting, flat roofing services and other roofing accessories including of course, soffits and fascias. Our team will happily deliver your required products right to your doorstep from Monday through to Saturday. Our service reliability and efficiency is our pride. By choosing us for your roofing materials, you're putting your trust in us. We promise we will not let you down!
If your soffits and fascias in Rugeley look like they've seen better days, then it's time to get them replaced. Give Capital Roofing Centre a call today to discuss your needs. Don't wait until your roof comes down to take care of the problem. Use the services of a reputable company and replace your soffits and fascias as soon as possible.