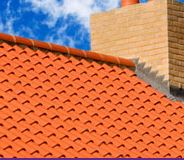 Sandtoft in Stoke is one of the most popular brands of roofing materials. Capital Roofing Supply is proud to distribute this quality product to our customers. Homeowners might not give the design of their roof as much thought as they do the siding colour or the windows of their home. However, choosing the right style, material and colour for your roof transforms your home from ordinary to extraordinary. Capital Roofing can discuss with you the many roofing options available for your particular roof style. All properly installed roofing materials will keep the rain out but why not add a little pizzazz along with functionality. We won't try to talk you into going over your budget but we will show you how to get the best looking roof for your money.
Some of the most popular roof types you see today have been around for hundreds of years. In Stoke, Sandtoft  is available at Capital Roofing. Clay and concrete tiles are now manufactured by machine as well as by hand. These days a plain tile of clay or concrete is just as durable but weighs far less. Slate, Roman and Pantiles by Sandtoft are all available at Capital Roofing Supplies. We also carry roof accessories for a final touch. Sandtoft is widely used by roofing contractors because customer satisfaction is important. They know this brand of roof tile will stand the test of time. The tiles are readily available if a replacement is needed due to storm damage.
Capital Roofing can recommend Sandtoft in Stoke for your roofing contractor. However, if you are planning on completing your roof replacement yourself, we are here to back you up. If it is time to replace your roof or you are looking at a new build, don't be content with the status quo. Contact Capital Roofing and choose from many choices of tiles by Sandtoft. We want you to make a successful job of it. Capital Roofing will help you estimate your material needs right down to roofing nails. When your start date arrives, Capital Roofing will have your materials delivered right to your door. Count on us.