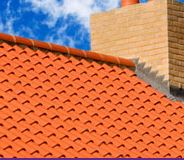 Use only the best quality roofing tiles in Wilmslow to increase your roof's life expectancy. At Capital Roofing Centre, we are proud of being the leading suppliers of roofing materials in the Staffordshire and Cheshire regions and beyond. Most of our business comes to us via recommendations from satisfied, delighted customers. What sets us apart from other similar companies is our total commitment to quality, affordable pricing and our customer-centric approach. No matter how big or small your project, we can provide the right advice, assistance and products. We ensure that our products are delivered to you right on time and at the site of your choosing, six days a week. Whether you're a DIY enthusiast or a professional building contractor, you'll find our products and services to be of top quality every time.
Whether you're undertaking a new build, or renovating, repairing or refurbishing your old roof, it's important to select the right tiles. In Wilmslow, roofing tiles are available in a variety of grades, designs, and sizes and colours. You need to select the ones that best match your roof design, its pitch and angle. Other factors to consider are how much weight the structure can bear, the durability and strength of tiles, how watertight they can make the roof, and also how aesthetically pleasing they are. However, apart from these, there may be local restrictions in your area. Council regulations may mandate the use of certain types of tiles to ensure that your building is in compliance with the rest of the buildings in the area.
Roofing tiles in Wilmslow that you choose may have to pass inspection with local authorities for quality and for compliance with local regulations. The weather and geography prevailing in the region are also very important factors to consider when you select the right roofing tiles. Certain types of tiles are traditionally used because of these reasons. Slate and clay have been used for many centuries precisely because of the climate and geography of the area. This factor is crucial if you're undertaking restoration works. Keep your budget in mind too. Contact us for more information on our roofing tiles.  You can rely on our efficient service and reliability.