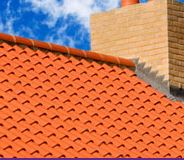 Roofing tiles in Rugeley are widely varied and can be made from clay or concrete as well as other materials. Not only do they vary in size and design but also in colour. Choice of tile depends largely on taste or if a repair is necessary then on the best match to the existing style and colour you can find. We can find you the best option if you bring a sample tile. We can deliver anywhere from 200 to 20,000 tiles as well as facia, soffits and roofing timber. We stock a wide variety of the top brands in roof tiles including MarleyEternit who have been supplying tile in the UK for over 75 years. Redlands, another of our top brands, have been in the business for over 80 years.
When building an extension on to your home in Rugeley, roofing tiles need to match those of the original building as closely as possible. We will deliver your order of roof tiles on either the same day or the next day so that you will have very little down time. We know that your roof has got to be strong and resilient as well as very durable as it is all that holds the rain and weather out of your home or business. Some of our tiles are made with 10 % recycled waste concrete from fines left over from course grade crushing. We are sure that with our extensive range of tiles there will be just the tiles suitable for your project.
Roofing tiles in Rugeley are an affordable and necessary part of your home. Contact Capital Roofing today and order your new roof tiles. Whether you are a professional roofing company or a DIY enthusiast we have all the items necessary to successfully complete your roofing project. We supply roofing slates as well as sky lights and guttering and will deliver to your site 6 days a week. We are efficient and reliable and are used by numerous professional roofing companies in the area.