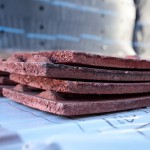 An extensive selection of roofing tiles in Rugeley is desirable when selecting tiles for your home. Our professional roofers come to us because they want to meet their customers desire for just the right colour and material. We work with the finest brands like Marley, Eternit, Sandtoft, Forticrete, Russell and Redland. They are suppliers of the high quality tiles and other roofing products we know our customers can count on. In Rugeley, roofing tiles for every roof style whether Urban, modern, new or refurbishment are available in colour, textures and price ranges to please everyone. Regardless of the quantity desired, we can source them and deliver them to your work site. We deliver six days a week.
Our roofing supply company is your best source for all your roofing needs regardless of roof type. In Rugeley, roofing tiles, slates, flat roofing materials, guttering, sky windows and all the accessories are in supply. You can count on our knowledgeable staff to make sure you have what you need so you can make a complete job of it. They're familiar with all of our products, so if you have any questions, just ask. If you need to replace missing roof tiles for your current roof, it's a good idea to bring one of the tiles in with you to our store. Homeowners may not have the original information for their roof tiles and as a roofer, you may not recognise it. We'll get it matched up for you.
When it comes to roofing tiles in Rugeley, we maintain a good stock of products at the ready.  If we do have to order any products for you, we'll usually have it in a day. There are no long waits. Time is money for roofing contractors and we acknowledge that in the efficient manner that we conduct our business. We take pride in being the roofing supply house that is always reliable and available for help. Contact Capital Roofing for your roofing tiles. We can provide you with a free quote. If you need equipment hire, we can supply that along with our dependable delivery service.