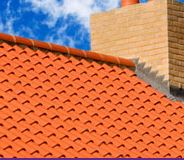 For top quality roofing tiles in Congleton, Capital Roofing is the roofing supply company you need to visit. After the last high wind, you have discovered that a number of roofing tiles need to be replaced. While only a few are smashed, and others merely cracked or chipped, it makes sense to replace all the roofing tiles that have fallen from the roof.
In Congleton, roofing tiles and other roofing materials are available to both the weekend roofer and the professional roofer. Capital Roofing take great pride in their efficient service and reliability, as well as their extensive selection of roofing materials. Choose from an incredible selection of Marley Eternit, Redland, Sandtoft, Forticrete and Russell Roof Tiles. If you need assistance or guidance in choosing the most suitable replacement tiles for your roof, you can rely on Capital Roofing's product knowledge and expertise in the field to help you out. They offer a free estimating service to ensure you will get exactly the number of tiles you need, at the price you budgeted. Capital Roofing also offers a prompt same day/next day delivery service. Regardless of whether you are looking at a few tiles, or a truckload, they will deliver what you need to your door, every day of the week, including Saturdays.
Roofing tiles in Congleton are just one of the services and products offered by Capital Roofing. Other quality products include guttering, insulation, lead sheeting, soffits and fascias, in fact, all you need for your roofing project can be found at Capital Roofing. Roofing tiles purchased from Capital Roofing will not need to be replaced in a hurry. With the quality roof tiles from major leading brands, you can be sure that your roof will not only look good, but will last for many years to come. Capital Roofing is known for their competitive prices, and their roofing tiles are no exception. If you would like more information about affordable roofing tiles, contact Capital Roofing.