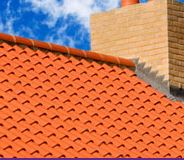 If you need quality roofing supplies in Ashby de la Zouch, whether you are a trade roofer or a DIY enthusiast, we will be more than happy to provide you with what you are looking for. When it comes to roofs, there are so many different materials and approaches which you can use, whether it's a new roof or you are re-roofing. Many homeowners have found that flat roofs often have problems such as leaks, cracks or weakening structure. Homeowners with pitched roofs will need to regularly check that their roof is not missing any shingles or else it will start to deteriorate.
To make sure that you are only getting quality materials for your roof in Ashby de la Zouch, roofing supplies are available from us at Capital Roofing Centre. Not only do we make sure to acquire the latest and best supplies from top manufacturers (with whom we have built a strong relationship with) around the country, we also make sure that our customers are paying best price for them. Another perk our customers love about us is the fact that we carry nearly everything under our roof. Thus, they don't have to go to different places to find the different and often varied accessories they require. Additionally, we know that time is an important factor for our clients and we make sure to deliver their products as soon as possible. If it is an emergency and you need to carry the work as soon as possible, please let us know so that we can make the necessary arrangements.
We are a company that loves efficiency and if you need roofing supplies in Ashby de la Zouch, you can count on us to provide you with information and products within a short delay. If you would like any further details, please contact Capital Roofing. You can also use our free estimating service for the supplies you need and if you require equipment hire, get in touch with us today.