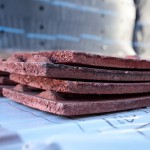 When you need quality roofing material in Burton, it is good to know that you can rely on Capital Roofing. Whether you are a professional roofer or doing roof repairs on your home, we have what you need. Our prices are competitive and you will find that our service meets your specific needs. We take great pride in our efficient service and reliability. Give us a ring and let us know what roofing material you need. The range of roofing materials we have on offer is extensive, and you can be sure to find exactly what you need.
Need to repair a flat roof? In Burton, roofing material that we have on offer includes everything needed for the repair of a flat roof. We source our material from top name brands, including some of the country's top suppliers. From Chesterfelt products to Ruberoid and Polyglas, to many others, you will be spoilt for choice when it comes to flat roofing products. Or, perhaps you need to give attention to your guttering system? You can rely on our team to provide top quality guttering systems, fascias and soffits. No matter what you need for your roofing project, we will be glad to assist. We also offer an efficient and convenient delivery service. Once you place your order, we will delivery your roofing material to your door.
Roofing material in Burton is readily available when you pay us a visit. Choose from a large selection of quality roof tiles, timber products, lead sheeting, insulation and sky lights. We have everything you need to ensure that your roofing project is a success. Other than our extensive range of quality roofing materials, we also offer a delivery service to your door, an estimating service and equipment hire. If you are looking for a reliable and competitively priced roofing material supplier, contact Capital Roofing today. Speak to our expert team about any questions you may have. With our many years of experience in the roofing material supply industry, we can answer any of your questions and offer reliable advice.