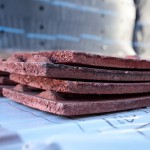 How do you when to change your roof tiles in Cannock? The tiles on your roof have a limited lifespan. With exposure to the elements, they can wear down quite quickly and need replacement. Weakened roof tiles can lead to serious structural damage to your home. However how do you determine when your roof tiles need to be replaced?
In Cannock, roof tiles are a speciality of Capital Roofing. These experts often advise customers to look for 5 telltale signs that point to roof tile replacement. Firstly, consider the age of the roof. Most roofs last for up to 25 years. If your roof was installed atop another roof and is older than two decades, then you may require a tile replacement. Another warning sign that points towards roof tile replacement is when you notice the shingles buckling and curling. This is most likely to occur on the slopes where sunlight directly hits the roof. If you notice your shingles are curling, then you must replace the roof tiles immediately. Next, examine the valleys on your roof. If you notice patches that are missing or falling apart, then replace the tiles here immediately. Valleys are important parts of your roof as this is where rain and snow travel to go into gutters. If your valley is compromised, it may lead to a leaky roof. Missing shingles are another indicator. If the shingles tabs are missing, you must opt for roof tile replacement. Lastly, check your roof boards. Head to the attic to examine whether daylight is entering through the roof. Also check the insulation for moisture. If in doubt you can always contact a professional roofer.
If your roof is more than 20 years old or if there are shingles missing, then you must opt for new roof tiles in Cannock. These can be found at Capital Roofing, one of the leading roof experts in the UK. For high quality roof tiles, contact Capital Roofing.