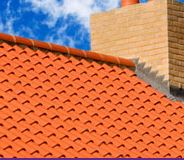 If you are looking for new roof slates in Burton you will need a good source of supplies. Using roof slates have some major advantages. They provide a nice appearance to homes and commercial buildings alike. They offer more choices of colour, thickness and size. They are available in gray, green, black, red, purple and mottled tiles. Slate roofs will last a very long time due to their durability. Some slate roofs last up to 150 years. Slate is one of the most fire-resistant materials available for roofing, a beneficial feature to many homeowners. Slate is also environmentally friendly. The initial cost of slate may be higher than other materials, but the long-term savings are worth it.
For your roofing project in Burton, roof slates are available at competitive prices at Capital Roofing. We stock roof slates from the top suppliers in the country, and deliver six days a week. We have slates from Yates & Co. They supply every type of natural roofing slate produced in the UK. Included in their selection is Villar del Rey blue or black slates from Spain, and Vermont Green slate. Sandtoft is another supplier we use. They also offer natural clay tiles or recycled slate. For a unique look, you could choose interlocking slates.  Marley Eternit uses modern technology to provide an economical, environmentally friendly slate option for homeowners as well. When you need roofing supplies, we should be your first stop. With our wide range of supplies, we will be your last stop too.
Roof slates in Burton are available in several styles and ranges. Contact Capital Roofing to find out more about our large selection of roof slates. Call us or stop by and take a look at what we have to offer. You will find what you need here. As one of the leading roof material suppliers in the region, we pride ourselves on our efficient service and reliability.