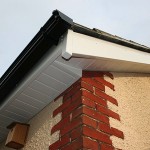 You may need fascias and soffits in Stafford to replace those old timber boards you have which run along the lower edge of the roof. These boards are important as they support the bottom row of tiles and the guttering. The soffit board is under the fascia board and is ventilated to allow air into the roof area, preventing the timber from rotting. The Capital Roofing offers an efficient and reliable service, and their soffits and fascias are supplied throughout Staffordshire and Cheshire. The Capital Roofing team has been providing an excellent quality of work in these areas for the last 10 years.
In Stafford, fascias and soffits are supplied by a team who come highly recommended and who offer products and services at competitive prices. The roof of your home is a costly investment and you can't afford to neglect any parts of the roofing system. Today there are low maintenance fascia crafted from aluminium or PVC because of their low maintenance properties. The role of the fascia and soffit is to offer protection for your roof and to provide the roofing system with a smooth, attractive appearance. Regardless of whether the fascias are made from fiber-cement board, wood or aluminum, it needs to be in tip top condition to prevent moisture and rotting of the roof rafters.
Fascias and soffits in Stafford require quality products and expert installation. Capital Roofing are roofing specialists and are a premier supplier of robust roofing materials and products for trade and DIY. They offer same or next day delivery. You will find everything you need at Capital Roofing, from roof tiles to skylights to fascias, soffits and guttering from among other items. If you need advice or more information about fascias and soffits, contact Capital Roofing.